Fall Foliage Update November 7, 2017
Last week most areas of Arkansas saw the Fall colors really pop! If you haven't been out to see the beautiful changing colors of the Fall Season, you don't have much time left. The leaves are starting to fall. Here are our recommendations for where to see Arkansas in it's beautiful color display. Do you have pictures of the fall foliage in your area? Run over to our Facebook page and post your favorite pictures. We can't wait to see them!!!
Northern Arkansas:
Hobbs State Park-Conservation Area - Arkansas's largest state park in land area, Hobbs State Park-Conservation Area (HSPCA) covers a 12,056-acre tract of diverse Ozark landscape along the southern shore of 28,370-acre Beaver Lake. Twenty-two of the park's 60 miles of border stretch along the shores of Beaver Lake. The park lies between Beaver Lake to the north and War Eagle Creek to the south with acreage stretching across a part of Benton County southeast of Beaver Lake and extending into Madison and Carroll counties. This park's landscape consists of plateaus, ridges, valleys, and streams featuring an upland forest of oak, hickory and pine. Many water features including disappearing streams, springs and seeps have carved the many hollows in this fragile limestone landscape and created cave-related features including numerous sinkholes. The park is 10 miles east of Rogers on Ark. 12, which bisects the park property. The park is located at: 20201 AR-12, Hindsville, AR 72738. Call (479) 789-5000 for more information.
Pig Trail Scenic Byway - The rugged and forested Boston Mountains region of the Arkansas Ozark Mountains provides the setting for the Pig Trail, which often runs through a tunnel of foliage during spring, summer and fall. The route is 19 miles. Take Arkansas State Highway 23 from the south boundary of the Ozark National Forest near Interstate 40 (35.544884, -93.859461) through Franklin County to its intersection with Ark. 16 at Brashears in Madison County (35.812193, -93.794855).
Map: https://arkansashighways.com/scenic_byways_program/pig_trail_scenic_byway.aspx
White Rock Mountain - Experience nature and adventure at historic White Rock Mountain... This Ozark National Forest Recreation Area features three unique and rustic natural stone cabins and a large natural stone lodge all built in the 1930's by the Civilian Conservation Corps (CCC). Each features a stone fireplace and original wood furniture handcrafted by the CCC. The lodge and cabins were restored to their original state in 1991. White Rock Mountain also offers 8 primitive family camping sites.These easily accessible shaded campsites include tents pads, fire rings, grills, picnic tables, and access to restrooms and water. Small RV's or pop-up campers can be accommodated at a few sites. White Rock Mountain is 2,260 feet above sea level and received its name from the appearance of the lichen on the sheer bluffs that appear white from a distance. Guests at White Rock can enjoy incredible scenic views from the lodge, cabins, campground, and surrounding bluffs. White Rock Mountain is located at 217 Bowles Gap Road, Winslow, AR 72959. Call (479) 369-4128 for more information.
Mulberry River - The approximately 55-mile Mulberry River is definitely one of the state's wildest rivers during spring. From its beginnings deep in the Ozarks to its confluence with the Arkansas River, the Mulberry pours over ledges, shoots through willow thickets, and whips around sharp turns. In drier times, it's a good place to swim, wade, skip rocks, and fish. Visitors to the Mulberry can expect prime Ozark Mountain scenery--narrow canyons, tree-lined bluffs, and dense woods. A good assortment of wildlife is found in the immediate area, including one of the state's largest concentrations of black bears. In 1985, the General Assembly declared the Mulberry to be "a scenic river of the State of Arkansas" and in 1992 it was named a National Wild and Scenic River. Mulberry River is located in Ozark, AR 72949. Call 479-964-7236 for more information.
Mount Nebo State Park - Rising 1,350 feet, Mount Nebo offers sweeping views of the Arkansas River Valley. In 1933, a portion of the mountain was chosen as a park site. Native stone and logs from Mount Nebo were used by the Civilian Conservation Corps to construct many of the park's bridges, trails, rustic-style cabins, and pavilions. Fourteen miles of trails encircle Mount Nebo and take visitors to the awe-inspiring Sunrise and Sunset Points, perfect places to take in the view. For mountain biking enthusiasts, the 4 1/2-mile Bench Trail is a fairly level route along a natural terrace that encircles Mount Nebo. As you ride through the mixed hardwood and pine forest, you'll pass historic springs and Fern Lake, and see rock work done by the Civilian Conservation Corps in the early 1930s. This is an excellent ride for your family's first mountain biking adventure. Mount Nebo State Park is located at 16728 State Hwy 155, Dardanelle, AR 72834. Call 479) 229-3655 for more information.
Petit Jean State Park - Petit Jean State Park is an Arkansas icon, a state natural and historic treasure that has welcomed travelers over the decades. The natural beauty and ancient geology of legendary Petit Jean Mountain inspired the creation of Arkansas's first state park, and with it our state park system. The park mirrors the mountain's rugged beauty with its rustic-style, native log and stone facilities constructed by the Civilian Conservation Corps (CCC) beginning in 1933. Within the park are three National Historic Districts containing more than 80 structures, trails, and bridges. Each of these remarkable works connects you to the craftsmanship and conservation legacy of the CCC, the close to his heart "Tree Army" of Franklin D. Roosevelt's New Deal. Hiking trails lead through forests, canyons, meadows, and along streams and mountainside. See where nature over time formed sheer bluffs, Cedar Falls, and the Seven Hollows, such distinctive features as Bear Cave, the Grotto, and the Natural Bridge, and other formations sculpted geometrically by nature called Turtle Rocks and Carpet Rocks. Petit Jean State Park is located at 1285 Petit Jean Mountain Rd, Morrilton, AR 72110. Call (501) 727-5441 for more information.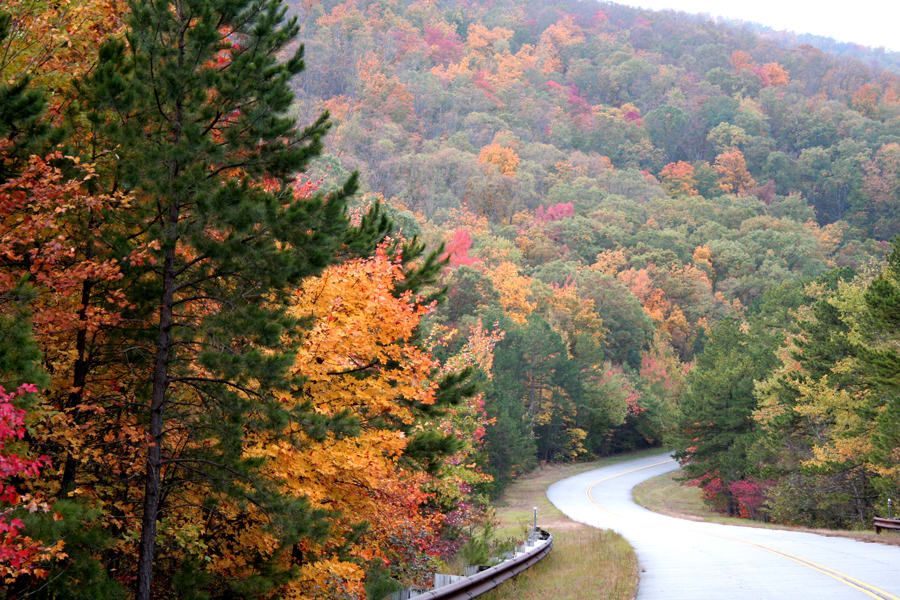 Southwest Arkansas | Ouachitas:
Daisy State Park - In this scenic setting in the foothills of the Ouachita Mountains, Lake Greeson, the Little Missouri River, and Daisy State Park make a winning combination for outdoor enthusiasts. Lake Greeson, 7,000 acres of clear water and mountain scenery, delights water sports enthusiasts. Catches of black and white bass, stripers, crappie, catfish, and bluegill account for the lake's popularity with anglers. Rent a solo or tandem kayak. Guided lake tours are offered on a regular basis or upon advance requests. All terrain vehicle (ATV) enthusiasts can enjoy the challenging 31-mile Bear Creek Motorcycle Trail on Lake Greeson. The trail begins at Daisy State Park (situated on the north shore of the lake) and travels east approximately 1.5 miles on park property, then changes to U.S. Army Corps of Engineers lands and travels along the eastern shoreline of the lake to Laurel Creek Recreation Area. ATV's, mountain bikes, dirt bikes and hikers can utilize this multi-use trail that is open throughout the year. Daisy State Park is located at 103 E Park Rd, Kirby, AR 71950. Call (870) 398-4487 for more information.
Ouachita National Forest - The Ouachita National Forest covers 1.8 million acres in central Arkansas and southeastern Oklahoma. Headquartered in Hot Springs, Arkansas, the forest is managed for multiple uses, including timber and wood production, watershed protection and improvement, habitat for wildlife and fish species (including threatened and endangered ones), wilderness area management, minerals leasing, and outdoor recreation. Enjoy camping, hiking, biking, scenic driving, trail riding, water recreation, fishing, hunting, and more! the Ouachita National Forest is located in Hot Springs, AR 71902. Call (501) 321-5202 for more information.
Millwood State Park - A series of boat lanes meander through submerged timber, marshes, and oxbow cutoffs making Millwood Lake a "tree-filled" fishing favorite. Famous for bass tournaments, this 29,260-acre lake abounds in largemouth, catfish and crappie. Spring and fall offer anglers great crappie fishing here, and catfish and bream fishing in summer. Bird watching is another popular activity here because of the lake's variety of year-round inhabitants that include eagles. Millwood State Park is located at 1564 AR-32, Ashdown, AR 71822. Call (870) 898-2800 for more information.
Millwood Lake - Whether you are seeking a place to fish, camp, or just relax Millwood Lake has just the place for you. The Millwood Lake Project offers a variety of outdoor enjoyment for all ages. Located in Southwest Arkansas the Millwood Lake has some of the best fishing in the country along with a wide variety of wildlife viewing opportunities. Millwood Lake is located on Ark. 32 nine miles east of Ashdown. Call (870) 898-2800 for more information.
Scenic Highway 7 from Hot Springs to Nimrod Dam - Drive Scenic Byway 7 in Arkansas, the state's first state-designated scenic byway, and travel through four of the state's varied geographical regions. Arguably one of the most scenic drives in America, the route begins on the south end within the West Gulf Coastal Plain, a region that saw an oil boom beginning in 1921 near El Dorado. It continues to Camden and on to Arkadelphia through rolling terrain with dense pine forests and stream valleys with bottomland hardwood forests. This 290 mile route stretches from the Louisiana border to Harrison, Arkansas. Map: https://www.arkansashighways.com/scenic_byways_program/highway7.aspx
White Oak Lake State Park - Adjacent to Poison Springs State Forest, this park lies on the shore of Lower White Oak Lake, 1,700 timber-filled acres for bass, crappie, catfish, and bream fishing. Watchable wildlife and birding opportunities abound here. The park offers regular sightings of great blue heron, egret, osprey, and green heron, and in wintertime, migrating bald eagles. Choose from the park's hiking trails or almost 10 miles of mountain bike trails leading through a diversity of natural environments ranging from marshlands to Beech covered ridges. A variety of interpretive programs, including guided hikes, are offered during the summer. White Oak Lake State Park is located at 563 State Hwy 387 #1701, Bluff City, AR 71722. Call (870) 685-2748 for more information.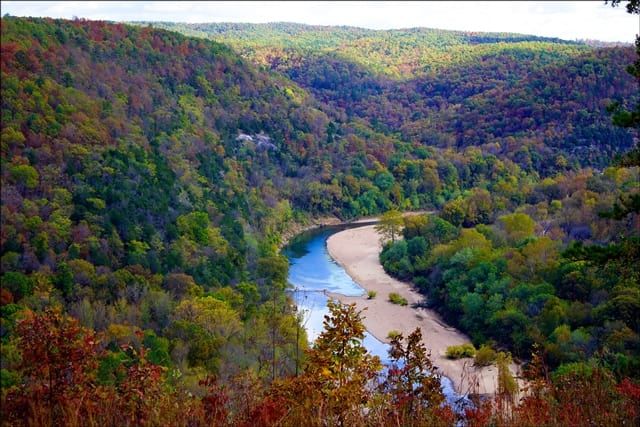 Eastern Arkansas | Delta Region:
Crowley's Ridge State Park - Atop the forested hills in northeast Arkansas, Crowley's Ridge State Park occupies the former homestead of Benjamin Crowley, whose family first settled this area. Native log and stone structures, constructed by the Civilian Conservation Corps in the 1930s, set the mood for this park's rustic warmth. Park facilities include a group lodging area featuring five bunk cabins, a kitchen/dining hall and bathhouse; four fully-equipped, modern duplex cabins with kitchens [in two duplex units]; 26 campsites (18 Class B and eight Tent Sites); picnic areas; snack bar; trails; standard pavilions; baseball field; 31-acre fishing lake (electric motors only); and a 3 1/2-acre swimming lake. The park offers fishing boat, kayak, and pedal boat rentals. Interpretive programs are offered here throughout the year. Crowley's Ridge State Park is located at 2092 State Hwy 168 N, Paragould, AR 72450. Call (870) 573-6751 for more information.
Arkansas River at Pine Bluff - The Pine Bluff Site Office abounds with history. White Bluff, just upstream from Lock and Dam No. 5, has been a familiar landmark for river travelers for many years. The bluff is the natural geographic boundary where the Western Gulf Coastal Plain and Mississippi Delta meet. Visitors can spend their time at the Pine Bluff Site Office like the pioneers did or they are welcome to partake of more modern conveniences. Parks along the river provide boat launching ramps, drinking water, camping areas (that accommodate most travel trailers and motor homes), picnic sites for families and groups and other facilities for the convenience of all. With over 7,000 acres of riverfront forestland we are sure that everyone that enjoys the outdoors will feel a part of the beautiful portrait that our forested lands have to offer. Call (870) 534-0451 for more information.
Cane Creek State Park - Located where the rolling terrain of the West Gulf Coastal Plain and the alluvial lands of east Arkansas's Mississippi Delta regions meet, this park offers you the opportunity to explore two of Arkansas's distinct natural settings in one visit. Hike, run or bike the park's 2,171 acres of woodland areas in the Coastal Plain. Paddle or fish on 1,675-acre Cane Creek Lake, a timbered Delta lake, and experience the natural beauty and abundant wildlife that inhabit Arkansas's Mississippi Delta. Just across the timber-filled lake, anglers and paddlers can also explore Bayou Bartholomew, the world's longest bayou. Park staff offer guided walking, biking, kayaking, and birding tours, and other interpretive programs throughout the year. Hiking, backpacking, mountain biking and kayak trails offer park visitors hours of outdoor entertainment, including birding and other wildlife viewing opportunities. The 15.5-mile, multi-use trail – one of the park's top attractions – goes through rolling terrain, along the lake, and across many bridges including three suspension bridges. There is also a 2.5-mile multi-use trail for smaller adventures. The park's 2.5-mile kayak trail offers a relaxing outdoor aquatic adventure. Cane Creek State Park is located at 50 State Park Road, Star City, AR 71667. Call (870) 628-4714 for more information.
Since the colors will be fading and the leaves are starting to fall, we will do a final wrap-up next week. Until then...