"Water Fallin" in Arkansas
Working in Real Estate you see a lot of cool properties all around Arkansas. One of the perks of being a part of the Real Estate world is how much nature the Realtors get to see. So in my spare time, I tend to explore Arkansas. Arkansas has some pretty awesome Waterfalls. I usually go between Dec and June because it is considered the wet months. There is so much more to being in Real Estate than just selling a property. It's about making a connection and telling new homeowners all about what Arkansas has to offer.
You often hear " Keep Arkansas Beautiful", well we should. The reason being is Arkansas has a natural beauty to it and there is so much to explore in the Natural State, including all the waterfalls. Why not go and explore what our state has to offer? It could be several waterfalls together or just a day trip with the kids or your dog. The last few years I have grown to love exploring Arkansas and I have lived here since 1998 (10 yrs old, I am 30 yrs old now). We just don't appreciate how awesome our state is. Some of us just plan on going to the beach or to the Rocky Mountains for a summer vacation or a weekend getaway. Why not plan a whole week around Arkansas? I mean don't get me wrong I love a little beach time or seeing the breathtaking views in the Rocky Mountains like the Grand Tetons.
This past weekend I visited Mirror Lake Falls, located about 13 miles from Mountain View and about 4.5 miles from Fifty-Six, AR. I have been to Mountain View several times but didn't know it had this amazing waterfall. I turned right off of Highway 14 into Blanchard Springs Caverns park. Go about 2 miles down the road and there is a parking area with some handicap parking as well, for those wondering. I actually turn right at the end of the road and went a little way down to park in the extra parking area.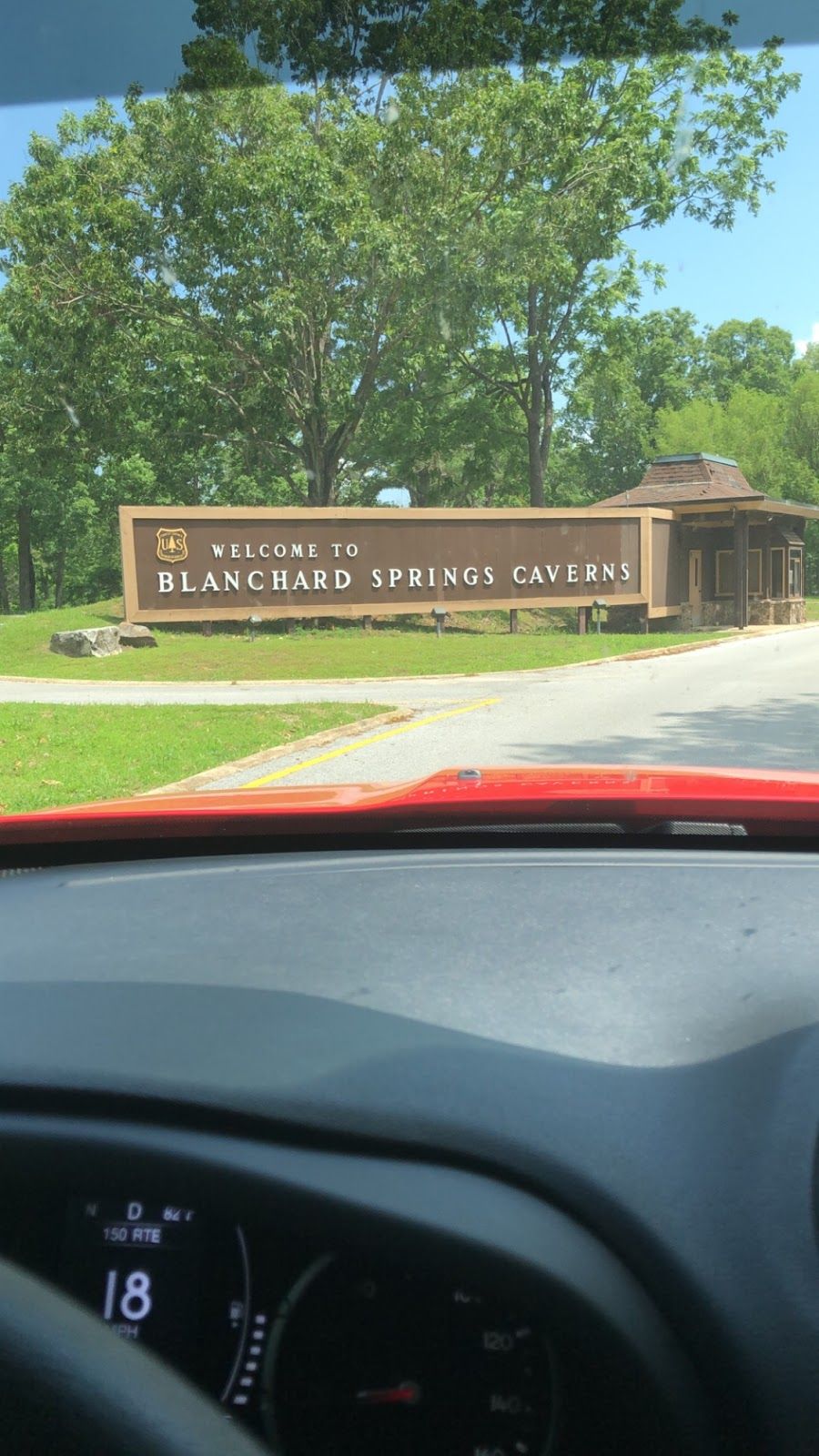 I always bring my dog Bentley (Yorkie) with me and he was very excited when I parked the car. The trail to the waterfall is pet-friendly, but they must have a leash on at all times. There are some steep/big steps down to the creek, where I parked, so be careful! The other parking area has a boardwalk you can walk on that is easier for those who need it. I actually did the short hike from where I parked to the falls, which is not a bad hike but there are some small switchbacks and some rocky areas. I went down to the creek and could instantly feel the coolness coming off of the creek. Of course, Bentley had to get his feet wet and look for fish. We even saw some tadpoles :) He has this obsession with fish for some reason. Anyways, we went along the hiking trail and seen some people fishing. Fishing here is very popular, you can see all along the banks people camped out for a day of fishing. The water is so blue and clear, it is memorizing to see in person and it will just blow you away.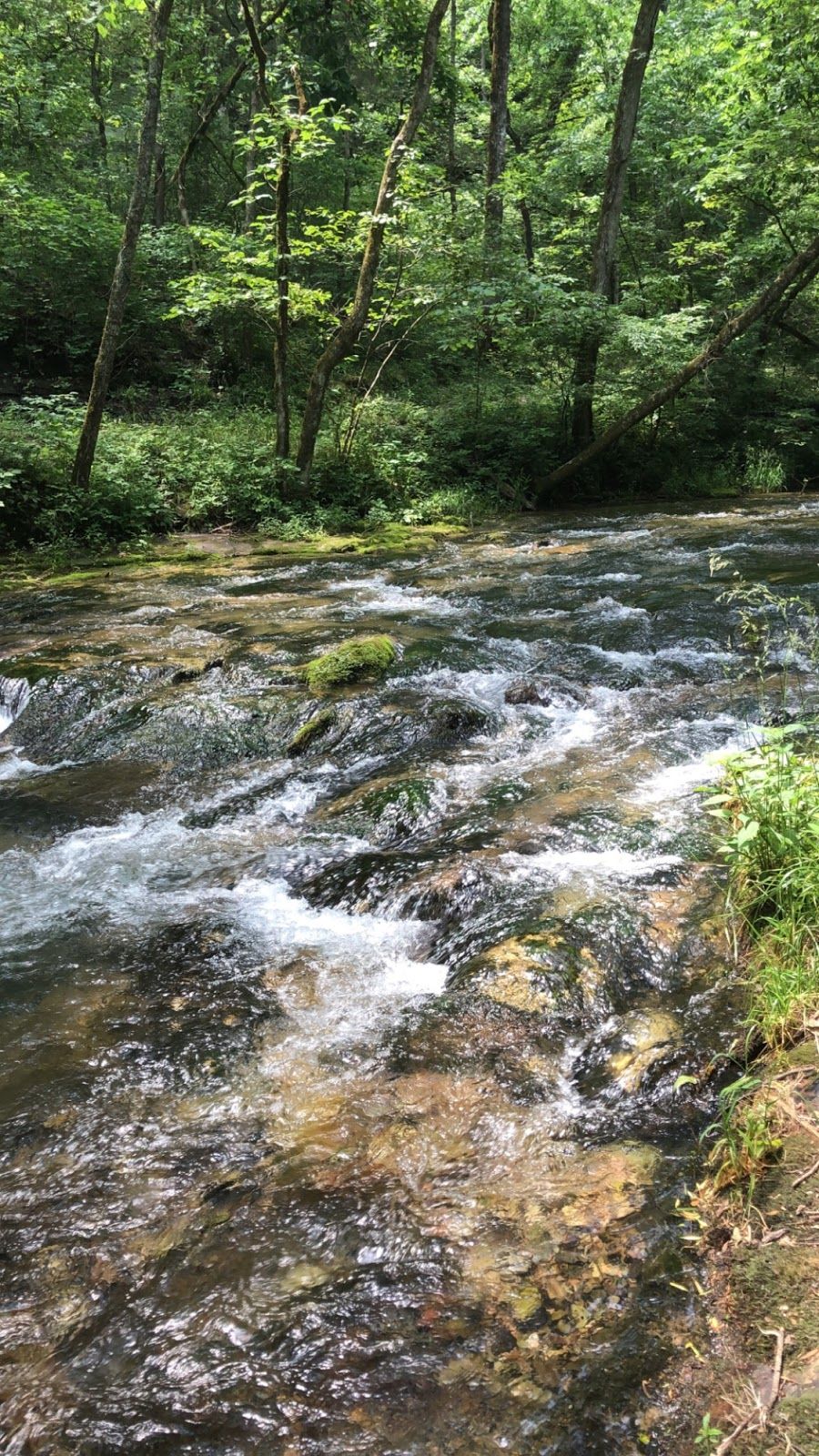 As I reached the end of the boardwalk with people fishing all around, I came to the top of the falls. You could feel the vibration of the waterfall as you got closer. Bentley was trying so hard to figure out how to get down to the bottom. I went around and went to the end of the boardwalk where the main parking area is. There is a trail next to the boardwalk that leads down the hill. It was kinda muddy and steep so be cautious. As I was walking down the trail, there were some neat looking rock formations. (It reminded me of the Grotto at Mt. Petit Jean, if you have ever been there.) As I got closer to the bottom of the falls, there was an old rock structure that still had a couple of walls and the foundation still there. Once I reached the bottom of the falls, my breath was taken away. The amount of beauty that I was seeing was indescribable. (This should be a must do on everyone's bucket list.) Of course, Bentley loved it, he was jumping from rock to rock and even went swimming. We stayed for about 45 mins just watching the water cascade over the wall.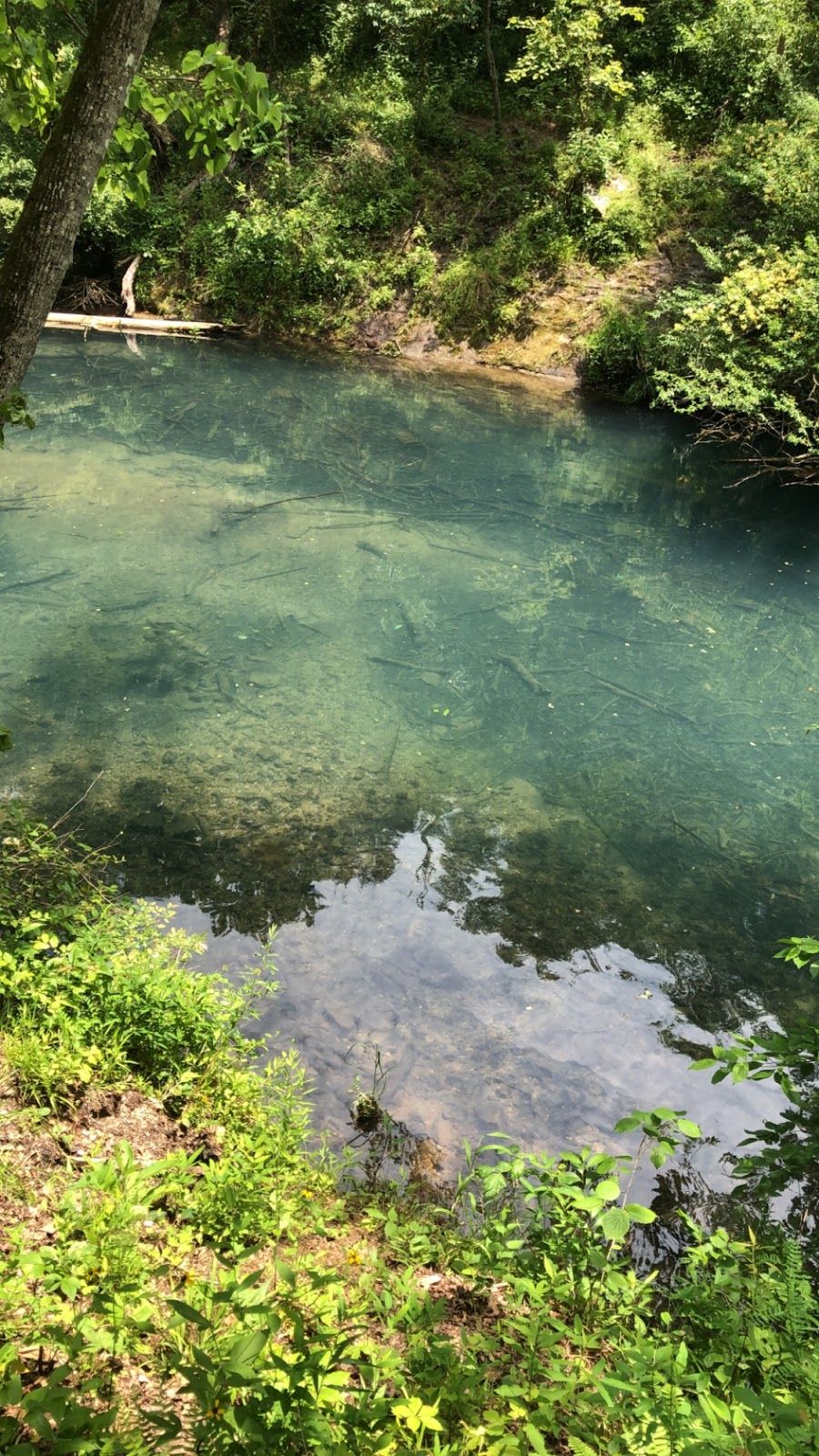 In closing, in my opinion, of course, we have so much to explore in Arkansas and we don't even know it. We have all of these waterfalls sitting in our back yards just waiting for the next person to see its beauty. If you haven't picked up the book Arkansas Waterfalls by Tim Ernst, do so. I have looked at it several times and it has a lot of good information in it on most of the waterfalls in Arkansas. (It even includes directions and a map.)
Until next time, enjoy the beauty Arkansas has to offer :)